While visiting a new place, it's good to know some tourist spots in mind. Fortunately, Maryland is filled with these kinds of places. While it is a good thing, too many options make it quite hard to pick a single one. Therefore, you have to make a list of some of the best team building activities in Maryland that are a must-try!
Maryland is a fun place to be – especially if you are traveling with your buddies. If you are visiting this city with your friends or family members, you need some team building activities to make unforgettable memories.
To help you out, in this article, we have mentioned some of the best team building activities in Maryland that will improve your understanding and help you bond with others effectively.
So, without further ado, let's get into it! 
Team Building Activities In Maryland – The Complete List
Here are our top 10 picks when it comes to the best team building activities in Maryland:
ClueIQ Escape Room
On top of our list, we have the ClueIQ escape room. Partnering up with your family members or friends to escape a room is probably the best team building activity you can find. At ClueIQ, you can find escape rooms with a variety of themes.
You need to partner up with others to find secrets and cues in order to escape from a room. Some of the most popular escape room themes at ClueIQ include Operation Jingle Bells, Crane Manor, Excalibur, and Blitzkrieg. 
Besides that, you can also find numerous mobile games and rental games at this place! 
Terrapin Adventures
If you are visiting Maryland, you are certainly not planning to stay indoors. In that case, your best bet is Terrapin Adventures. The Terrapin Adventures is an excellent place for families and teams who like to spend some quality time in nature. 
There are several fun activities that you can choose from at Terrapin Adventures. One of the best things to do at this place is kayaking and rafting. You can spend your entire day boating at this place. Moreover, you can even participate in summer camps for more adventures.
Sagamore Spirit Distillery
Another team building activity that deserves a spot on our list is the Sagamore Spirit Distillery experience. This waterfront distillery is located in the Covington neighborhood, near Baltimore's Inner Harbor. You can visit this place for shopping and wine tasting.
While you can visit this place any day except Monday and Tuesday, we suggest you take a tour of Sagamore Spirit Distillery during their monthly summer series. At this place, you can drink at Nineteen 'O Nine and Whiskey Bar!
Baltimore Improv Group
Next, we have the Baltimore Improv Group. This place is an excellent spot for you to try out a new experience. At the Baltimore Improv Group, you can meet people with comedy, practice public speaking, and learn how to have fun.
The Baltimore Improv Group is a not-for-profit comedy theater where you can find several exciting shows, including Fade to Black: Live Movie and Big Time: Interview Show. You can even check out their drag show which is completely free. However, it is recommended to bring some cash!
Paint Splatter
Do you have an artist trapped in your body? If so, it's probably best for you to visit the Paint Splatter. At this place, you can paint on canvas and everywhere else. You can even select from neon choices for the black light room.
The Paint Splatter is an excellent place for you to meet some of the most talented artists available in Maryland. The best thing about this place is that there are no rules. You can either paint neatly or get messy. No one will judge you no matter what you paint at this place!
Wonderfly Games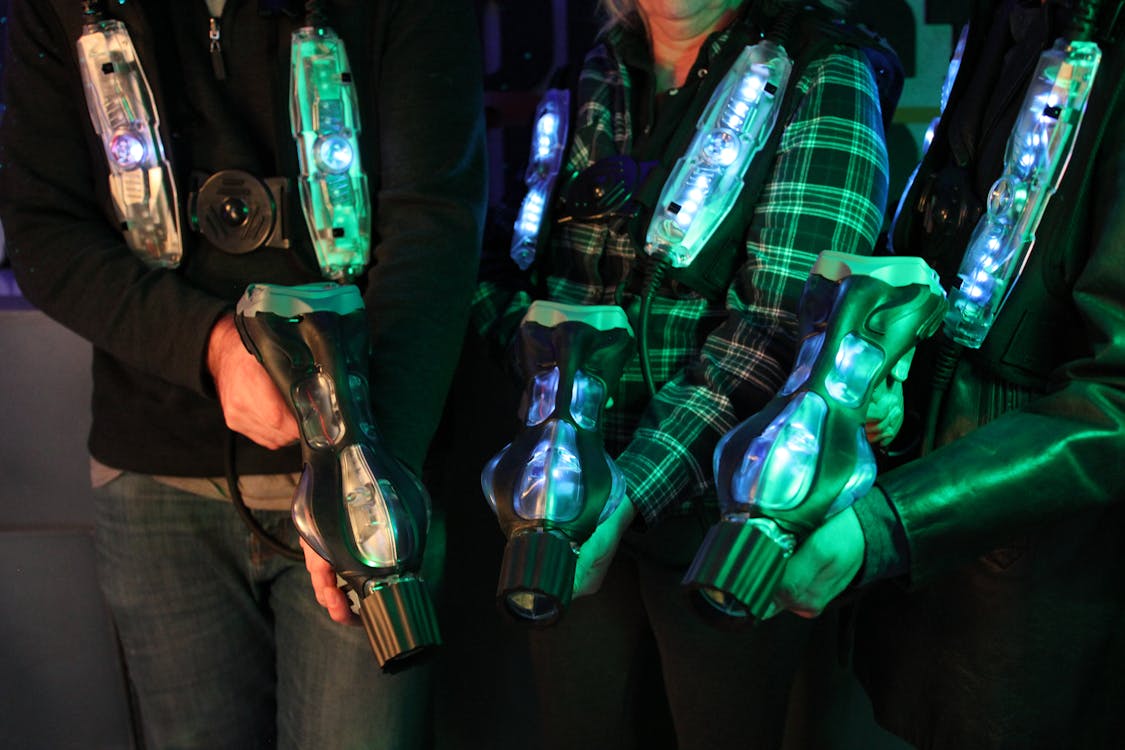 Sports are certainly the best team building activities out there. While they allow you to partner up with your buddies, you can even compete with your best friend while playing a game at Wonderfly Games. This place has several games that you can play in teams.
For team building, you can play laser tag, bubble soccer, and even rent party equipment. You can visit this place anytime. Whether you are looking for an indoor activity or an outdoor one, the Wonderfly Games is a place for you.
City Hunt
If you like playing scavenger hunts, the City Hunt is the place for you. The game is quite simple. You will get a list of some defining items, which you have to find while working in a team. In some rare cases, you can even play scavenger hunt alone. However, it is more fun with teams.
At City Hunt, you can find different themes. However, the goal is simple; you have to complete the list before the other teams do. You can even participate in a treasure hunt, where you have to follow a series of clues to find a certain prize.
Rage Room
Are you bored and frustrated by your 9-5 job? Well, visiting a rage room with your coworkers is an excellent way to kill that boredom. This one is an excellent place for you if you have anger issues and don't want to explode with rage one day.
In a rage room, you can partner up with others to break stuff and release all the negative energy. You will wear safety equipment and get a bat to break stuff. You can break computers, printers, tables, chairs, and whatnot. This place is quite therapeutic as well!
Urban Axes
Who doesn't like throwing sharp objects while drinking their favorite beverage? At the Urban Axes, you can spend some quality time with your buddies and coworkers. At this place, you can find delicious drinks as well as dangerous, sharp flying objects.
Throwing sharp objects while drinking certainly seems like a dangerous activity. However, you can also get safety equipment to protect yourself from getting hurt. 
Cozymeal
Last but not least, we have the Cozymeal. This place is for you if you like cooking and eating delicious meals. At Cozymeal, you can partner up with a chef to make delicious cuisines from scratch. It is a perfect team building activity for couples and professional chefs.
At Cozymeal, you can enroll in different cooking classes from beginners to professionals. You will interact with professional chefs to make delicious food in their professional kitchen areas. It is truly an amazing experience that will go above and beyond! 
Conclusion
Are you visiting Baltimore with family or friends but don't know what to do? Well, we have got you covered. Above, we have mentioned some of the best team building activities in Maryland that are a must-try.
With family members, you can visit the ClueIQ escape rooms, Terrapin Adventures, and Wonderfly Games. However, if your team consists of only adults, don't forget to take a look at Cozymeal, Urban Axes, Rage Room, and Sagamore Spirit Distillery. 
Your final selection will depend upon your own preferences. Select an activity that suits your budget and preferences. However, if you are low on budget, don't forget to check out the Baltimore Improv Group, which offers several free shows!